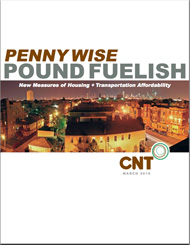 Penny Wise, Pound Fuelish
Penny Wise, Pound Fuelish serves as a guide to CNT's H+T Index, which demonstrates that the way in which urban regions have grown in the last half century has had negative consequences for many Americans. The report highlights the financial consequences to households and regions of the two approaches to development—compact, mixed use development with access to stores, jobs and transit versus dispersed, single use development that is removed from job centers and public transportation—and concludes that the compact approach produces greater affordability, lower greenhouse gas emissions and more sustainable regional growth. The report closes with federal policy recommendations to ensure that we build more livable and sustainable communities in the future.
The Rockefeller Foundation funded the production of Penny Wise, Pound Fuelish.